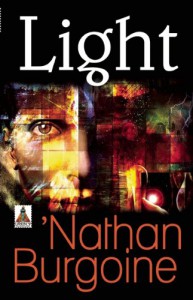 4.5 stars
Review written for
The Blog of Sid Love
What a refreshing read. This was a fabulous paranormal story that takes place in Canada during Pride week. Kieran is a really funny young gay masseuse who takes a week of vacation to enjoy all that Pride week has to offer.
Kieran is also Telekinetic with a side of Telepathy. He has grown up with it but mostly practices his skills with the help of his cat, Easter, by moving his toys around the room to play with him. Every time he uses his Telekinetic powers, he produces light in various forms.
Also attending the Pride events are a bunch of bigoted haters led by a crazy televangelist (Kieran named him "Stigmatic Jack") protesting everything gay. Unfortunately, Stigmatic Jack also appears to be Telekinetic as he injures people attending the events. Kieran uses his powers to thwart the evildoers and protect his fellow Pride attendees by creating a brilliant light show. This brought on the poll to give him the name "Rainbow Man," which Kieran absolutely hated. After this first incident, Kieran goes to the aid of sexy leather daddy, Sebastien, one of the Pride coordinators, who was injured in the attack.
Kieran's co-worker, Karen, who is a fabulously sassy character, continually tried to set Kieran up on blind dates, but this pretty much stopped once Kieran met Sebastien. The two really hit it off, but some fun flirting takes place before they ever take things all the way, and even then, the sex is mostly off screen. Have to say that my smutty side was hoping for more in this regard, but this was such a sweet story with enough commentary that I was able to use my own imagination when needed. He ends up sharing his secret with Sebastien, and it strengthened my sense of what a great guy Sebastien really is and how much I liked him with Kieran.
So, Kieran spends the rest of Pride week attempting to counteract Stigmatic Jack before he does any real damage to people. He doesn't have the best control of his powers, often chastising himself for not practicing and honing the skills more as he grew up. Sebastien ends up helping him in different ways, and there is a nice twist I wasn't quite expecting where Stigmatic Jack is concerned.
This is such an enjoyable paranormal story, with a hint of romance, sex and love. There are some nice side characters, although I never quite understood Miracle Woman, another Telekinetic who Kieran frequently meets in astral form. I kept expecting her to come out of hiding to help Kieran. The story is funny at times, moves along at a nice pace and was quick to read. I recommend to those looking for a different kind of paranormal. I'll definitely be checking out more stories from this author.